Bali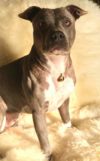 Bali is a lovely young lady.  She recently underwent a surgery to remove a cyst on her head and is recovering in fine form and was so brave!  But don't be fooled as she is the sweetest diva when it comes to weather and will put up the cutest fuss if forced out in the rain, cold, or snowy weather!  As a young teen, Bali has moments where she will talk back if she feels you have not noticed her enough or have deviated from her regularly scheduled programming.  This dog is a hoot.
Indoors – which is her fave location in the wintery months – you can find Bali snuggling on comfy, soft blankets, chewing durable chews, playing with a doggy puzzle or loving her people with cuddles.  She can be the laziest dog in the world, but is also up for fun times too.  At night, Bali takes to her very comfy crate, where she curls up in a dog bed and super soft blankets…  yes, she will whine if you leave her without comfy bedding.  Despite her demands to have a comfy life, she is food motivated and definitely wants to make you proud.  She loves her people with all of her heart.  While Bali does not currently live with other dogs, she has met other dogs and been friendly, playful and respectful and would hope for the same in any dog that might become her canine sibling. 
Every morning Bali wakes up with a profound happiness that is showcased in so many ways.  
– The sound of her tail wagging, hitting the bed.
– Her grabbing a toy in her mouth and expressing herself with grunts and soft cries that almost sound like a baby, following us all over, as if she is recounting her dreams of the night before, wanting us to understand her.
– Her cuteness is so strong that when you bend down to pet/cuddle her she quickly rolls on her back seeking a tummy rub for as long as you are willing.
– Her snuggle-skill is olympic-medal worthy!  Under the covers with her people, she will wiggle her way to find a perfectly shaped Bali-spot waiting for her.
Bali's love for life is contagious and we know she wants to share that with her forever home (outside of Ontario due to breed specific legislation).  Please check your local municipality to ensure her breed type is allowed in your area before you apply, but be sure to apply soon as we doubt this loving gal will be up for adoption for very long!
Details
Breed: American Pitbull Terrier Mix
Sex: Female
Age: 1 yr. 5 mos. old
Size: Medium
Colour: Grey
Spayed/Neutered: Yes
Stage: Available
Additional notes
*Due to her breed label, Bali is looking for placement that has breed neutral laws only.  She cannot be placed in Ontario at this time.  Please verify your local bylaws as well before applying.*
Dogs: Yes to friendly dogs.
Cats: Unknown
Kids: teens and up, please!
Housing Type: Detached (she will bark when left)
Fenced Yard: Ideal
Special needs: Bali has separation anxiety and while she would love to be with her humans more often, it is important that she finds a home that will offer her structured crate time so she can learn that being away from her people is okay and that they most definitely do come home too.  Someone who can be home more often (or who could take her to work) would be the best option as a full work day through the full week would be too long for her.