Beckett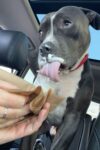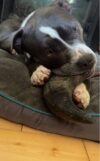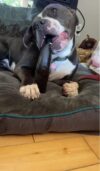 Beckett is a sweet soul with a big heart. When he loves he loves hard. He is always looking to please which makes him easy to train. He can be shy at first with new things, he is looking for a family to have his back and be his advocate.
Beckett requires a confident dog in the home. He is insecure and looks to a doggie best friend for guidance. Beckett would need a cat free home. Beckett would prefer to have a home with older children. Beckett was hit by a car when he was a young puppy, he had extensive injuries to his back end. Due to the injuries he sometimes limps when he has exercised too much, his forever family will have to be cognizant of that. He is a medium energy pup and enjoys his walks but will never be a good jogging partner.
Beckett has some separation anxiety, he was crated but this caused him a lot of stress. He would do best left in a room with his dog sibling when his people are away from the house. Beckett is fully potty trained. Beckett is very food motivated which makes him easy to train. He knows the commands sit, stay, come, wait, and down. He is also a great listener and understands he has to wait nicely for food or be invited on the couch or bed. He does amazingly in the car, he is very happy to lie down and take a nap. Beckett loves his people and would prefer to have someone home more often.
Beckett wants nothing more than to be with his people. When he isn't cuddling with his favorite person he loves to play fetch, go for walks, or run in the woods. Beckett is a loyal guy looking for love and the right family.
Details
Breed: American Bully
Sex: Male
Age: 1 yr. 3 mos. old
Size: 55lbs
Colour: Gray and White
Spayed/Neutered: Yes
Stage: Available
Additional notes
Dogs: Yes confident dog required
Cats: No
Kids: Teens and up
Housing Type: Townhome or Single Family
Fenced in yard: Required in the city long lead in the country
Special: Due to Beckett's bully appearance, we will only consider a home where Breed Specific Legislation is NOT enforced (Ottawa is okay!) Beckett gets monthly injections and daily joint chews. Beckett also requires pain maintenance sometimes when he starts to limp