Bindi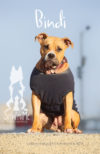 Bindi is a sweet, gentle girl. She's a sensitive soul who will become very attached to her human counterparts. She has  environmental/food allergies which require her people to be attentive to things she is exposed to. She loves being at home and sunbathing around the house, finding the perfect spot to catch some rays. Bindi is a lovely dog who enjoys the simple things in life…. food, naps, play time, walks and most importantly cuddles.
Bindi is a social being who craves human attention and approval. She can enjoy alone time but will need regular practice at self-soothing. Bindi will ignore other dogs at a distance as long as they appear to be 'under control' and she isn't required to share the limelight. She is still working on walking passed other dogs when on leash. We will support a foster or foster-to-adopt home with a training session to ensure they start on the right path with her.
While not required, Bindi would love to go a home where someone is often at home or where she can have a break at lunch for a quick walk and cuddle. She is crate trained and should he confined to a small area when her new people aren't home as she still has a puppy side that can sniff out mischief when you are not watching!
Bindi has become accustomed to regular baths and will now climb in the tub on her own as long as you're patient. She celebrates a clean body by running, rolling and joyfully throwing herself around the house or commonly known as 'the zoomies'. Bindi lives to make you happy, and will try her best to please you which in turn makes you want nothing more than to make her feel loved.
Little Miss Bindi is eager to meet new people. We recommend when new people come in to crate her and ignore until she calms down, and then introduce, as this has significantly improved her greeting manners. Bindi is the perfect dog for someone who is looking for a best friend and is okay with just one animal in their life. We hope Bindi find a foster, or foster-to-adopt home for Bindi so we can continue to support her while we sort through her allergies. She will brighten any home with her giant kisses and cuddles.
Details
Breed: Bulldog Mix
Sex: Female
Age: 4 yrs. 9 mos. old
Size: Around 60lbs
Colour: Brown
Spayed/Neutered: Yes
Stage: Available
Additional notes
Dogs: No thanks!
Cats: No thanks!
Kids: She likes kids but would rather be an only child;) Ideally older kids in the home or fine to just visit kids.
Housing: Detached or Townhome
Fenced Backyard: Required
Special Needs: Bindi has allergies that require medication and a strict specialized food. This helps manage them though she still has set backs at times. Bathing and a medicated spray also help her feel better.