Bryson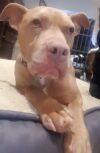 This super handsome goof ball loves playing!  And he loves playing even more with his people. He would be happy to show off his semi-fetch playing skills.  To do that, he would love a fenced in yard if he is going to live in the city.  If in the country, he could still show off his skills on a long lunge line but should not be let off leash in case he catches the scent of a squirrel!  This guy really loves his walks and so he promises to take you on at least one or 2 daily walks if you are up for it.  He lives and loves to be with his people and so we will be looking for a family ready to include this handsome lad into every aspect of their everyday lives.  He requires someone home more often, so either less days at the office or shorter days at the office would work well.
When meeting new people, Bryson can be mouthy  in excitement.  It is important that meetings with new people be calm and that he only interacts once his excitement has dwindled a bit.  Meet ups go much better once he has calmed down and can say hello in a relaxed way.  This will need continued work by his new people so ideally they would not have a busy household.
Bryson is a pretty loving and dedicated dog. Sadly, his love for his people is so huge that when they leave him for work or to run errands, life becomes very stressful.  As such, his fosters have worked really hard to help this guy get better settled and slowly learn to like his crate time with good bones, soft music and low lighting for nap time.  Progress is being made! Bryson is also quite smart and is looking for a person or couple that can offer him a predictable routine.  He will happily take advantage of people who are not dog savvy so it is important to be consistent and work on positive structure from the get-go!
This guy loves with his whole heart and has so much to offer to the right person or couple.  He lives in a pet-free home and because of this, we are seeking the same for his forever home at this time.  If you would like to apply to adopt this handsome lug, please complete an adoption application online http://www.sitwithme.ca/dogs/bryson
Details
Breed: Boxer Mix
Sex: Male
Age: 7 yrs. 10 mos. old
Size: Medium
Colour: Brown
Spayed/Neutered: Yes
Stage: Available
Additional notes
Dogs: No. Unknown at this time.  This may be updated as we learn more post-covid restrictions.
Cats: Good with dog-savvy/dog-friendly cats.
Kids: Dog-savvy older teens okay (16+)
Housing Type: Detached ideally.  A duplex or townhome may work if some barking during the day would be okay when he is left.
Fenced in Yard: Yes please in the city.  In the country, not needed if owners are active and he is not left off leash.
Special: He has anxiety when left and requires a reinforced crate as he is destructive.  He is on medication to help with his anxiety at a cost of about $40 per month assuming he is left daily and is doing well. He needs to find a forever home with someone home more often so the medication can be reduced and possibly eliminated in time. Bryson may have some seasonal allergies that can be helped via allergy medication, when needed (benadryl has helped).  A vegetarian diet seems to have helped a bit but his new owners will need to continue working with a vet if allergies flare up.
Important: **Due to his bully-esque look, we will not place him in certain areas of Ontario or Quebec where enforcement is over encompassing.