Cosmo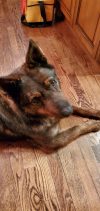 Meet the sweetest guy in the neighbourhood. Cosmo is such an incredible guy and will make a fantastic companion for almost any home.
Cosmo came from one of our shelter partners with a significant limp. We were worried it may be bad news but after diagnostics, it was determined that Cosmo suffered a cruciate tear several years ago that was left untreated. As a result he developed severe scar tissue in his knee making surgery a poor option. Since coming to care and starting on pain medication, Cosmo is a new dog! He loves going for walks (albeit short ones) and is so happy to hang out with his people.
Cosmo is also very overweight and due to his limited mobility, weight loss is more of a long term journey for him. Cosmo needs a home that will work towards helping him reach a healthy weight which will help his mobility greatly. He is a stubborn guy and he is used to putting on the breaks when he's had enough so a home that won't give in to his stubbornness is important.
Apart from some mobility limitations, Cosmo is such a wonderful boy. He is great with every dog he has met and would have no problem living in a home with another laid back pooch. Cosmo is also great with every person he meets no matter the age. Because of Cosmo's limited mobility, we recommend a home with older, sturdy children. Cosmo is a social guy who has excellent manners and is very calm overall.
Cosmo does have prey drive for small animals so he is not suited for a home with cats or small animals.
Cosmo is house trained but suffers from confinement anxiety. He would prefer a home where he can be left loose safely as he is not destructive as long as all high value items (food, garbage) are put away out of reach.
Cosmo would prefer a home where someone is home most of the time. He loves being with his people and adores being part of all the things his people do. He is a great sidekick and would make an excellent take to work buddy or work from home companion. Cosmo does not bark very often so would be well suited for most homes including attached housing or apartments. The only exception is that he cannot walk up many stairs at once so an apartment on the main floor or with an elevator he could use is essential.
Cosmo does have a condition called parrot mouth which is likely a birth defect. It does not cause him any issues but does make him more prone to dental disease. It's also what gives him that adorable coyote-like look!
If you're interested in giving this very special boy a forever home where he can be your forever side-kick, apply today at 
www.sitwithme.ca/dogs/cosmo
Details
Breed: Shepherd Mix
Sex: Male
Age: 8 yrs. 1 mo. old
Size: Medium
Colour: Black/ Brown
Spayed/Neutered: Yes
Stage: Available
Additional notes
Dogs: Yes - laid back preferred
Cats: No thanks
Kids: Yes - 5+
Fenced Yard: Preferred but not required for the right home.
Housing Type: Any as long as there are not an abundance of stairs
Special considerations: Cosmo has significant arthritis in one knee due to a long term untreated injury. At this point surgical intervention would not be beneficial so Cosmo is on long term pain medication to help increase his quality of life and improve his mobility. The cost of his medication is roughly $100/ month. Cosmo also needs to lose weight which will also significantly improve his condition.