Dr. Luka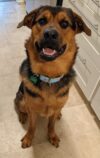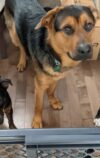 Meet Dr. Luka! Luka is a lovely pooch but does have insecurities and needs his forever home to be experienced with his type of breed and behaviour.
Luka has a small and close inner circle and takes his time to learn and trust new humans and furry friends. His new people need to understand that this boy is happiest with the people he trusts and he doesn't need or want regular new people visiting his home. Luka feels the need to protect his house and family and is reactive if someone new rushes to met him. He needs to be ignored and given the opportunity to meet people at his own pace. However, once you're in, you're in! Luka is the sweetest and most cuddly dog ever with his people.
At 100 lbs, Luka doesn't understand that he is too big to lie ON his foster parents when they're on the couch or bed. If Luka's foster parents are doing anything around the house, Luka is right there supervising and checking in on them. He never wants to miss out on anything that his people or furry friends may be up to.
Luka's forever home will need to have very few new people coming and going. He currently lives with 2 other dogs, who are his best friends. He is reactive to other dogs while on walks but is improving so his new family will need to continue to positively work on his on leash reactivity. A harness is a must for this big boy otherwise you'll be going for a ride! In the beginning, Luka did show some guarding tendencies around his foster siblings, but this has resolved itself with proper toy control. He still wants whatever toy his foster siblings have and will try and take it away so his new people will need to continue working on proper sharing.
He is a very smart and high energy boy so he needs to get regular physical and mental exercise. He loves to go for walks no matter how cold or rainy it is outside. A fenced backyard would be ideal for Luka as he loves to sit and watch over his house and of course chase squirrels. Another favorite pastime for Luka is to chew. Soft toys don't stand a chance against this pooch so durable toys are a must for Luka. If he gets bored he develops "scrunchy" face syndrome (a term created by his foster parents) where he starts looking for things to get into. This involves seeking out things that he knows are not toys such as shoes, socks, plastic containers or bothering his fur siblings; this can be cured by providing him with an appropriate toy or attention he needs. That being said, Luka can be left alone for a full day of work as long as he gets a good walk in the morning and when you get home. His foster parents tried crate training but that was unsuccessful. When one or both of his foster parents leave the house, he sleeps at the front door waiting for them to get home.
Due to his small inner circle, multiple meet and greets will be required before Luka moves in with his new family. If you feel you can give Luka the structure and support her needs, please apply at www.sitwithme.ca/drluka
(Version française aussi disponible!)
Details
Breed: Rottweiler / German shepherd Mix
Sex: Male
Age: 1 yr. 5 mos. old
Size: Large (Approx. 100lbs)
Spayed/Neutered: Yes
Stage: Available
Additional notes
Dogs: Yes but slow introductions needed
Cats: No
Kids: 12 +
Housing Type: Townhome or single family
Fenced-in Yard: preferred
Special: Dr. Luka is looking for a calm home with few visitors, with either a single person or couple.
Adoption fee: $750.00