Fia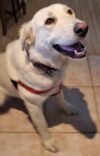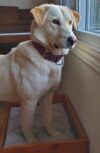 Fia is a sweet lovable dog who needs an experienced and active family who can keep up with her. She loves the outdoors, exploring, long walks in the woods, and, most of all, snuggles with her favourite humans.
Fia has a high energy level and wants to play all the time. As such, she would be happy to have another dog that can tolerate her antics at home. Slow introductions are required. Fia has not met any cats, but she does have a lot of prey drive: we therefore recommend a home without cats. She is a big dog that sometimes forgets her size. As such, a family without young children would be preferred.
Fia is crate trained. She will go in her crate to eat her meals and does not mind staying there for a while. You may hear a bark or two when she's ready to come out. Fia is still learning how to walk on leash, as she tends to pull out of excitement. It would be beneficial for her and her future family to participate in classes based on positive reinforcement. Fia is comfortable in the car.
If you're searching for an active partner for all your outdoor adventures, and, at same time, a sixty pound lap dog that will insist on being petted, search no more. Fia is your girl.
Details
Breed: Large Mixed Breed
Sex: Female
Age: 3 yrs. 10 mos. old
Size: 60 lbs
Colour: Blonde
Spayed/Neutered: Yes
Stage: Available
Additional notes
Dogs: Possibly with slow introductions
Cats: No
Kids: 10+ years
Housing type: Single-family home
Fenced yard: Required 6 ft high or more.
Special: This dog does have outstanding vetting that is being completed at our clinic in West Ottawa. After this outstanding vetting has been completed, the adopter can attend the clinic of their choice for all future vetting.