Glacier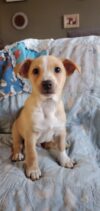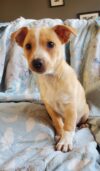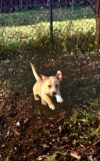 Glacier is a handsome puppy with a heart full of love to share. Glacier is the definition of a happy-go-lucky pup! His enthusiasm for life is infectious, and his tail is always wagging. His playful spirit makes him the ultimate four-legged friend for everyone in the household. This smart boy is highly food-motivated, which makes training a breeze! He's doing well with basic training, already mastering the art of sitting and making progress on the "down" command.
This affectionate pup adores snuggling up with his human friends, making him the perfect companion for cozy evenings on the couch or lazy Sunday mornings.
He is on the lookout for a loving family that can continue to nurture his happy spirit and help him grow into the wonderful dog he is destined to be. We really do want to see a person or family willing to take him to training classes.
Get ready for a lifetime of tail wags, wet nose kisses, and unforgettable moments with Glacier!
This handsome boy was born in our care to Eevee.  Eevee is a mixed breed dog (~6kgs/14lbs) who loves people, dogs and cats – and she gave birth to 4 pups, 2 girls (Espie & Flarey who is not yet ready for adoption) and 2 boys (Glacier & Rainer who has been adopted).  We do not know who dad is so we cannot know how big he might be when fully grown.  All puppies have only known love, care, and positive reinforcement with us.
Details
Breed: Mixed Breed (small)
Sex: Male
Age: 2 mos. old
Size: 2 kgs and growing
Colour: Blonde and white
Spayed/Neutered: Yes
Stage: Available
Additional notes
Dogs: Yes, to friendly and playful dogs who can respect his size.
Cats: Yes, to dog friendly cats. He lives with 2 dog savvy cats and enjoys playing them and running around after them.
Kids: 6+ dog savvy and respectful kids!
Housing Type: Single, Townhome, or Condo with direct access outside. These puppies do bark so please be mindful of this in attached housing.
Special: Glacier would thrive in a home where someone can be around more often to provide the guidance and love he needs to continue his development.  He is looking for a home in the Ottawa/Gatineau area who can attend outstanding vet appointments at our vet in West Ottawa to complete his standard vetting covered by the adoption fee. He is not a candidate for dog parks so if these are important to you, please do not apply.  We are looking for a home willing to take him to positive reinforcement training classes!
Only matched applicants will be contacted.