Jolene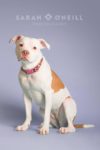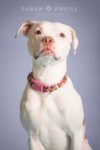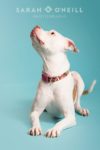 Jolene is a torrential downpour of love, excited energy, curiousity and stubbornness. She will make you laugh daily, make you love her even when she drives you mad, and will be the best thing that's happened to you if you have the right life set up for her. Oh and she will cause you to randomly start singing Dolly Parton songs too 🙂 Jolene, Jolene, Jolene, Joleeeeeene!
Jolene loves exercise but is more of a multiple sprint kinda gal than a marathoner. She loves to go for walks and walks nicely too though will get startled by loud noises or strangely shaped objects. She also enjoys investigating the yard and hanging with other dogs. She has made friends with every dog but can be pushy at times too. She would not do well with another pushy dog in the home. She has completed a street smarts class and an intermediate obedience class and is very eager to please. She is so fun to work with and is very food motivated.
Jolene is keen on consistency. She would benefit from a patient owner that will encourage her to investigate when she is insecure in new situations. As soon as she figures out her safe surroundings, she is an ace and will wiggle and kiss any human that will let her! She does need someone home more often as a full work day can sometimes prove to be too long for her. Even a lunch break of a short walk would do the trick. She is crate trained but will have an accident if left too long. She does very adamently ask for the door when someone is home.
Jolene is a very special girl and given a few minutes, we know she could wiggle into pretty much anyone's heart. She is fearful when first meeting new people but after about a minute and she is a wiggly puppy puddle in your lap. She works very hard at getting people to laugh and to love, and that kind of character is pretty amazing to have in a companion.
We would love to find this girl a committed and loving forever home. Does your life has room for a beautiful pooch named Jolene? (we promise she won't steal your man).
Details
Breed: American Staffordshire Terrier Mix
Sex: Female
Age: 10 yrs. old
Size: Medium
Colour: White/Brown
Spayed/Neutered: Yes
Stage: Available
Additional notes
Dogs: Good with all sizes but she can be pushy.
Cats: Unknown but we can find out.
Housing type: Detached, she sings when left
Fenced in yard: Required
Special needs: Someone home more often, calm household, and requires a special diet due to allergies. ***Out of Ontario and in areas without breed discriminatory laws.