Kallie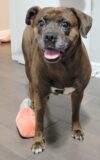 Let's slow things down a little, shall we? Kallie is a soft, gentle, medium energy girl who loves to lounge on the couch, floor, bed, you name it! Kallie is her name, and naps and belly rubs are her game. Kallie would love her forever family to join her on short, relaxed walks so she can stop and smell the roses to her heart's content.
During playtime, she sometimes channels her younger years by spinning and bouncing around to show she is ready! Her favourite toy is her pink chew toy, which she picks up and shows off. She takes treats slowly and gently, and cuddles up with you as closely as you'll allow! Kallie is curious about other dogs during walks but tends to be unsure about them getting too close. She needs someone to show her she's safe and doesn't need to be alert.
Kallie values her quiet time and needs to be the only pet in the home. Kallie is fully house trained and sleeps in her crate overnight. During the day, she loves having options on where to nap and prefers the option of keeping the crate door open all day. Kallie enjoys close cuddles, and gentle physical touch. She sometimes shows sensitivity in her hips, so fewer stairs in the home is preferred to keep her hips happy.
Kallie does well in the car and enjoys sniffing the wind if the window is down!
If you think you would be a good match for Kallie, please apply for her here: www.sitwithme.ca/dogs/kallie
Details
Breed: Boxer Lab Mix
Sex: Female
Age: 6 yrs. 6 mos. old
Size: 47 lbs
Colour: Brown / White
Spayed/Neutered: Yes
Stage: Available
Additional notes
Dogs: No thank you
Cats: No thank you
Kids: 5+ and dog savvy
Housing type: Detached or Country Home
Fenced-in yard: Preferred, not required
Special: Kallie is currently on a low daily dose of Trazodone to help with her anxiety.  Her medication costs approximately $40 per month. Her pre-existing collapsed trachea sometimes makes her sound a little like a pig during periods of over excitement, but does not hurt her - kind of like when humans snort when they laugh! We are looking for a home in or around the Ottawa area or a home within 2 hours willing to travel for a meet and greet.