Lenna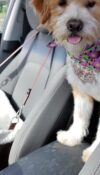 Our special Lenna is in need of the most compassionate home.
Our sweet and happy Len is looking for a special home. She is a fluffy ball of love that needs all the love a family can give and a little more too
Lenna didn't have a great start. She came into the rescue in May as a very stinky small hairless ball of skin and bones. She has allergies that need ongoing treatment in order for her to stay comfortable and full of fluff. Her chest and tummy are naked and may never regrow.
Lenna is a vocal lady who likes to use her voice. She whines and barks in excitement when you get home. She barks at new people and dogs in new environments. On her normal walk route, she doesn't react much. She looks like a fool but it's all a tough guy act. When she is excited or playing, she can be mouthy but is gentle.
Lenna is a bouncy happy girl but needs to stay relatively calm. She can't live an active lifestyle.
She has been diagnosed with Teralogy of Fallot. This means she has 4 different defects inside her heart. This amazing pup beat the odds and is currently living symptom free. Unfortunately this gives her a unpredictable lifespan.
Our goal for her, is to find her the perfect home. She deserves to be spoiled. She has come so far and been through so much.
This home has someone home the majority of the time. Len has a hard time without her person. She enjoys being on the couch and bed, where you are, she wants to be.
Lenna walks very well on leash, is very treat motivated and has many great house manners.
Lenna is house trained. She is good left loose but will scavange for food. This is completely understandable, given her history. She doesn't get into the garbage or counter surf. Just keep the table clean when you go out.
You can apply for Lenna at www.sitwithme.ca/lenna
Details
Breed: Terrier Mix
Sex: Female
Age: 2 yrs. 5 mos. old
Size: Small
Colour: Tan / White
Spayed/Neutered: Yes
Stage: Available
Additional notes
Dogs: ok with a smaller calm respectful ones with a slow intro
Cats: ok
Kids: yes please
Housing type: Attached housing ok
Medical: Monthly Allergy Medication: $150 plus a special diet