Lennie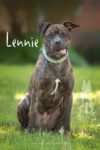 Lennie has a contagious zest for life that will infect you the second you meet him. This boisterous boy's enthusiasm is his most admirable quality and also the one that he needs to continue to work on as he determines when putting that energy aside is best! This bubbly pup lets his joy take the drivers' seat at times and requires a patient home experienced with bigger dogs to positively remind him of his manners and size.
Lennie loves the company of fellow four-legged friends though at times his exuberance can get the best of him. A tolerant, relaxed playmate would be the best buddy for Lennie.
This vocal boy will sing for your attention and for this reason, a detached home would be best for him. A bundle of energy, he can be mischievous and stubborn at times (can't we all?) but with the proper training and guidance, it's evident that Lennie will learn what his folks expect of him. He lights up come training time and is ecstatic to learn (through repetition and consistency, which is key for this boy). Lennie will enjoy and excel at obedience training because he loves to make his people happy.
This goofball is happiest zipping around the yard, and doesn't even require a playmate to do so. We have a racer on our hands so place your bets! A plain old walk is nice but Lennie will also want a bit more from you and so it is important to realize you are applying for an exercise and playtime buddy too!
Lennie is very well behaved in his crate, is house broken, and can be left alone for the day. He'll happily reward your playtime with him for sweet snuggle time, and is an affectionate boy that will make for a loyal and loving companion… once he learns that his hugs will knock you off your feet.
Details
Breed: Boxer / Mastiff Mix
Sex: Male
Age: 3 yrs. 3 mos. old
Size: Large
Colour: Brindle/White
Spayed/Neutered: Yes
Stage: Available
Additional notes
Dogs: Good for medium to larger dogs that will not be offended by his happy exuberance!
Cats: No thank you.
Kids: 12+
Housing Type: Detached home required.
Yard: Fenced yard required.