Maxfield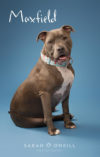 Maxfield is a pretty swell guy. He loves living the easy going, calm life and is far from a high energy dog aside from the occasional zoomies. Short walks are best for this guy. He loves having a backyard to roam and to play in with his foster siblings (he is not as much of a fan of intact male dogs, or rude/mean dogs) . He also loves playing with his jolly ball! One of the best things about this guy though is his love for his people, and when you call, he comes stampeding over to greet you with enthusiastic love. When new people come in, Max can either be over the top excited, or he may be unsure. He is really food motivated, so if he is unsure, treats go a long way. He has never met a new person coming into his home that he did not love within minutes though, so his hesitation is very short lived. When he does love a visitor, well, they will likely get bombarded with love if you are not on top of reminding him to take it easy.
Maxfield loves his cuddles, but is also quite happy to put himself to bed on his dog bed or the sofa at night. He cracks up his foster mom as he does his very best not to beg by pretending you and the food do not exist despite that last bit of food being the most desirable thing in his world. You can see him hoping beyond hope that you might share. He works extra hard to be the best boy he can be. He is low maintenance for certain, needing only a few short walks and backyard play to be happy, but he is high on the love-you-a-lot scale. He truly is the cool best friend folks are looking for in a companion pooch.
Maxfield is excellent left loose, and is house trained. He knows his basic commands, and let`s be honest, he is a pretty great looking guy. When Maxfield came into care, he was overweight. He also had a broken nail that needed quite a bit of time to heal, so his weight loss was delayed. He will need to continue on his diet. He also has some crackling in his knees, though he is quite mobile and runs like the wind. Due to this though, we are proactively giving him supplements to help strengthen his joints.
Details
Breed: American Pitbull Terrier Mix
Sex: Male
Age: 6 yrs. 5 mos. old
Size: Large
Colour: Blue/White
Spayed/Neutered: Yes
Stage: Available
Additional notes
Dogs: Yes to friendly dogs. I much prefer the ladies :)
Cats: No
Kids: teens okay - kids are too exciting to live with but I am friendly.
Housing type: Townhome okay.
Fenced in yard: A must, please!
Special Needs: Maxfield does need supplements for his joints as he is at risk of joint issues later in life due to his size. *Out of Ontario adoption only - due to breed specific legislation.