Miska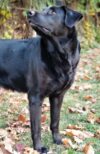 Miska is the very definition of a good girl. Inside the home she likes to lounge around and has great manners. Outside her inner puppy comes out and she loves to run around and explore. Don't let her age fool you she is a puppy at heart.
Miska lives with dogs, she loves dogs but does not need another one in the home. She would love to have doggy play dates. Miska has a prey drive so please no cats. Miska loves everyone but is a big girl. We are asking for older children in the home. Miska is medium energy level, she loves to go for walks and hikes. She pulls while on leash out of pure excitement, she could use a family who will work on her leash manners. Miska also loves to lounge around the house and would be very happy to watch tv and chill with her humans.
Miska is crate trained, she does no enjoy being in the crate while her people are home. Miska is fully potty trained. Miska knows basic commands such as sit, wait, and come. Miska is great in the car and will happily sit and relax until she reaches her final destination. Miska loves her people and would prefer a family home more often.
Miska loves to walk and will do a dance when she sees her harness being taken out. She is also a champion at tug and loves to play with either dog or human. Miska is the perfect dog, a sweet golden girl who is looking for her forever family to love.
Details
Breed: Black Lab
Sex: Female
Age: 8 yrs. 1 mo. old
Size: 66 lbs
Colour: Black
Spayed/Neutered: Yes
Stage: Available
Additional notes
Dogs: Yes
Cats: No
Kids: 5+
Housing Type: Any with direct access outside
Fenced in yard: Preferred not requied
Special: Miska has allergies, it is currently maintained through a hydrolized protein diet. Based on the season she may need a low dose of Apoquel as well.