Naomi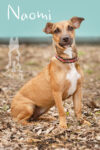 Naomi is one very adorable puppy who easily steals your heart with her kisses and silly ways. She adores cuddling and makes herself very small at night so she can sleep on your bed but is also happy in her own bed on the floor. Nay-nay, as she is lovingly called, hates being alone or left behind and is working on her crate game which is still fairly weak. What is not weak is her love for being a big part of your everyday life though!
Naomi is a tough cookie when it comes to play and wrestling in the yard with her canine pals. She can play with dogs 4 times her size and still have a blast; however, she is not a candidate for off-leash dog parks and would do much better with controlled play dates with known doggy friends. Of course, she would love another pooch in the home to have several play sessions daily and then head inside for some solid cuddle sessions with her canine buddy or human bestie. Without a dog buddy, expect to be playing outside in the yard and walking Naomi at least 2-3 times daily as she is an active, adventure-seeking little muffin.
Naomi would love someone home more often, and who only needs to work half days at most away from the home. With a good bone and a nice walk, she is great at chilling while you do your thing during the day… she will come over to nudge for attention though! She's love training classes too and is very food motivated. In fact, she loses impulse control around food so needs some help and consistency to reinforce manners… she is an opportunist!
Naomi is smart, silly, sweet and super loving and is excited to find her home and we know whoever is lucky enough to welcome her into their home will be so in love. You can apply online here: http://www.sitwithme.ca/naomi
Details
Breed: Potcake
Sex: Female
Age: 1 yr. 5 mos. old
Size: 26 lbs
Spayed/Neutered: Yes
Stage: Available
Additional notes
Dogs: Yes, required.
Cats: Unknown, likely okay with ONE dog savvy cat, but a meet and greet required.
Kids: 10+ and dog savvy as Naomi is still quite mouthy in play/excitement
Housing Type: Single family home where barking when left is okay.
Fenced in yard: Required in the city
Special: We are seeking a home in the Ottawa/Gatineau area, willing to travel to Ottawa to continue her standard vet care needs at our vet clinic that we will cover. Naomi does need someone home more often (half days at least) and who has dog experience or is willing to attend training classes.