Paikea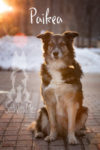 Paikea would love a person or couple, retired or working from home, that would spend the day with her to "just be" by her side and enjoy life.  She is still fairly active at the age of 10 and is eager to find someone to play fetch with her, and go for leashed walks and take in the world.  She longs for human attachment and looks at you with these beautiful eyes full of appreciation.  She is a senior girl and loves what she loves, and that means a pet-free home life with her people.  She had, in the past, lived with dogs/cats, but she has a great difficulty sharing items and/or attention with other animals and we believe her happy place has no other animals.  She can walk by other dogs on walks and be friendly and polite and sometimes even playful but sharing resources (attention, toys, treats) even outside of the home is not in her play book and at her age, we accept her needs.  She enjoys her walks a great deal but does pull initially so a walking aide like a harness may be beneficial.  She will definitely want you to get out in the sunshine and will help you keep an active lifestyle with a couple of walks a day when you are up for it!  A fenced in yard where some fetch can be played would be excellent for her too!  After, she will lie in the grass with a big smile on her face.
Now on to her medial needs.  Her medication needs to be well mixed in her canned (a spoonful) and kibble diet. Without the enzymes, she cannot absorb nutrients and when she came into our care, she was an absolute mystery as she was so emaciated even though she was eating!  Her new home must be dedicated to continuing her medication for life as we never want to see this poor girl in that state again!
So while this sweet girl does need a pet-free home, will have ongoing medical costs, and needs someone home more often,  we have to say, she really loves her people and we know that she will become someone's best friend and another reason to smile every day.  We just need help finding that person for her!  You can apply to adopt here: https://www.sitwithme.ca/dogs/paikea
Details
Breed: Border Collie and German Sheperd Mix
Sex: Female
Age: 10 yrs. 3 mos. old
Size: Large
Colour: Black / Tan
Spayed/Neutered: Yes
Stage: Available
Additional notes
Dogs:
No thank you.  She can walk past dogs on walks, but she is not keen on sharing her space.
Cats:
No, thank you.
Kids:
 10+ and dog savvy
Housing Type:
Detached in the city would be fine. A country home to retire in would be awesome too!
Fenced Yard:
Preference given but not required!  She loves playing fetch sooooo much.
Special:
Paikea has exocrine pancreatic insufficiency and it almost took her life.  It is the pancreas' inability to produce enzymes required to properly digest food (
https://www.merckvetmanual.com/digestive-system/the-exocrine-pancreas/exocrine-pancreatic-insufficiency-in-small-animals
).  She requires these enzymes as daily medication, a special vet diet ("EN") kibble and a small amount of canned food to keep her tummy in check.  The cost per month for her medication available through a pharmacy via a prescription is ~$65. Paikea also has some separation anxiety and is upset when left.  Someone home more often is needed as a regular work schedule would be too hard for her. We are looking to do a longer trial adoption period to ensure you both succeed.