Presley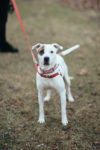 Just like the King (Elvis), this hound dog has a big personality. She's gorgeous but don't fall for her for her looks. Like any true Diva, she has some specific needs in her forever home so please be sure to read her bio all the way to the end.
Presley is crate trained and in her foster home is quiet in the crate but definitely uses her voice to welcome her mum home. She can also be left loose in the house when her mum goes out but this is a privilege she worked up to; a stuffed Kong keeps her busy while the work day passes. When visiting other homes, she has barked in her crate so this is one of the reasons she requires a detached home. A townhouse may also be considered if some barking will not be an issue..
Presley should be the only pet in the home. A quieter suburb or rural home is preferred as she also barks at other dogs while she is on leash and requires an adopter willing to commit to positive based training. She does need regular exercise and a fully fenced yard gives her a safe place to place to run off energy without worrying about other animals.
Presley is enthusiastic in everything she does so needs someone willing to give her consistent boundaries. Without them, she can feel unsure and become over excited in situations. With structure, she is able to look to her favourite person for guidance. Presley does well with younger children visiting but is best living with teens who are able to maintain the house rules (and can't be knocked over 😉 )
The one thing Presley will never need training on is loving her human! If there is any space near you, there will always be a pretty white dog to fill it. She's the perfect friend to toss the ball with for hours, a great travelling companion for road trips and after some exercise she loves to Netflix and cuddle. Presley's very best skill is reminding you that you have an adoring friend for life.If you would like to apply, you can here: 
http://www.sitwithme.ca/dogs/presley
Details
Breed: American Bulldog Mix
Sex: Female
Age: 9 yrs. 5 mos. old
Size: Medium
Colour: Brindle / White
Spayed/Neutered: Yes
Stage: Available
Additional notes
Dogs: No, thank you.
Cats: No, thank you.
Kids: 14 + and dog savvy
Housing type: Detached house. Townhouse may be considered. No apartments please.
Fenced yard: Required
Special needs: Presley's adoption will include a traning session to help her new family set Presley up for success. She will need a transition adoption where she has a meet and greet with her forever family once or twice before starting her trial.