Quinn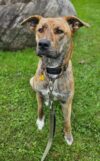 Sweet Quinn is a happy-go-lucky girl looking for a family that is ready to help her become the best pup she can be. She is a young soul and enjoys engaging in play with whoever is ready! She has a calm nature and enjoys basking in the sun or on the couch during chill moments, or engaging in activities such as running, rollerblading, hiking, and obedience training.  With her engagement, we feel she would enjoy agility training as a bonding experience with her family!
Looking to meet new people?  Quinn can help bridge the gap with her friendly demeanor and love of physical attention.
Showing her puppy side, Quinn would do best in a home with a dog with similar energy or who can handle a rougher play style.  Quinn has met a cat while in care, but did try to engage in play.  An extremely dog savvy cat could be okay for her. Quinn loves to feel the wind in her fur and would love to have a big fenced in yard to explore.  Sometimes showing her mischievous side, Quinn would do well in a home with excellent structure and routine.  She has been known to nap on desks when left alone, or sneak a tasty treat from the counter.
Quinn has not yet met young children, however, she can still get a little clumsy during times of excitement, so we are currently asking for kids 10+ years old only in the home. Quinn is a smart girl.  She would love a family interested in expanding her skills. She has been a making strides learning sit, down, on your mat, and in your crate.
She is house trained and is working on her crate training, since she would much rather be where her people are than rest in her crate.  One of Quinn's favourite toys is a giant kong filled with kibble, knocking it over to find her earnings!
Quinn loves car rides and will happily enjoy the breeze of a rolled down window, or nap quietly for the ride.
Details
Breed: Shepherd Mix
Sex: Female
Age: 1 yr. 1 mo. old
Size: 65lbs
Colour: Brindle
Spayed/Neutered: Yes
Stage: Available
Additional notes
Dogs: Yes
Cats: Possibly one dog savvy cat, but please read more below.
Kids: 10+
Housing: Detached in the suburbs, country home, or townhome where barking is okay
Fenced in yard: Ideal
Our dogs are not candidates for dog parks, so if this is a priority for you, please do not apply.