Roger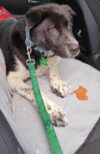 Roger may be a Husky mix, but he could not be farther from the traditional chatty stereotype! Roger is as quiet as a mouse in the home, and enjoys following around his people to observe whatever activities they get up to. Don't let his size fool you, this big boy is sweet and gentle. One of his preferred ways to get your attention is by clicking his teeth together, kind of like snapping your fingers!
Roger is unsure about new situations and needs very slow introductions before he feels comfortable. We think that he was an outdoor-only dog before coming into rescue, so his exposure to human lifestyle is limited. He is a flight risk and must be securely leashed or separated in a room when doors are being opened.
Roger loves other dogs and enjoys stopping to meet every dog he sees on his walks. He shows excellent manners towards the other dog regardless of their personality! His most favourite activity to do is going for walks. Roger would love a jogging partner to help him soak up the outdoor breeze!
Roger is still working on his crate training and doesn't mind enjoying treats or his meals in the crate while the door is open. He is not destructive in the home, but gets nervous when left alone, so being kept loose in a room while he is alone would be best for the times that he can't spend with his people. He has had limited accidents in the home, which is very impressive considering his short time in rescue! Roger's favourite toy is his squeaky cow. He will proudly show it off and would love to be introduced to more types of toys in the future.
Roger would love a family that can work with him to show him that the world is not such a scary place and there are plenty of things for him to enjoy now that he is safe. Roger is easily spooked by loud noises, so older kids in the home is preferred. Roger is very quiet in the car and lays down for the duration of the ride. Do you think you can help Roger become the best dog he can be?
Details
Breed: Husky Mix
Sex: Male
Age: 5 yrs. 3 mos. old
Size: 28 kgs
Colour: Black and White
Spayed/Neutered: Yes
Stage: Available
Additional notes
Dogs: Yes please! (continue reading below)
Cats: No
Kids: Yes, 12+ years and dog savvy
Housing: Any with direct access outside, please read below
Fenced in yard: Not required, but he must be leashed at all times outdoors.
Special: Roger is a very shy boy and needs his new people to provide him with a calm environment. Due to his fear of new situations and people, he is not a candidate for off leash or dog parks. He is currently taking anti-anxiety medication to help him settle in with a little more ease. We are looking for a home within 2 hours of the Ottawa/Gatineau area, willing to travel for the meet and greet (or multiple). Preference to applicants willing to attend positive reinforcement training classes.