Ryder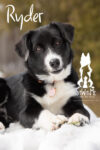 Ryder is a happy marauder, outgoing, curious and playful. He plays hard and naps hard.
Ryder enjoys going for long walks and spending lots of time prowling around the backyard. Once full sized, he would make a great jogging and hiking companion. Ryder is crate trained and will need his adopters to continue his potty training. He is still very young and is teething so he needs to be redirected away from chewing on furniture quite frequently. He is a fast, keen learner and is highly food-motivated. His absolute favourite activity is playing in the backyard and looking for sticks. He loves sniffing for a handful of kibble tossed in the snow.
His love of fellow puppies and his ability and willingness to learn new skills makes Ryder a great candidate to participate in positive reinforcement classes to help him become the best pup he can be. He would love a home with a medium or large dog, but if there is no dog in the home, multiple play dates a week would be excellent for Ryder. He does well during car rides and curls up in his crate for the journey.
If you think you are the right home for Ryder, please apply!
Details
Breed: Husky Mix (Manitoba Mix)
Sex: Male
Age: 4 mos. old
Size: 25 lbs and growing!
Colour: Black and white
Spayed/Neutered: Yes
Stage: Available
Additional notes
Dogs: 

Yes

Cats: 

No

Kids: 

12+

Housing type:

Single detached or country home

 

Fenced-in Yard: 

Required

Special:

This pup does have outstanding vetting that is being completed at one of our veterinary partners in Brockville on May 3rd. After this outstanding vetting has been completed, the adopter can attend the clinic of their choice for all future vetting. This puppy is not a candidate for dog parks,so if this is a priority for you, please do not apply.