Scully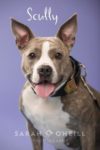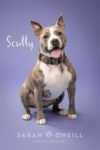 Are you looking for the best housemate possible? Well look no further as Scully is the girl for you! Scully is the best pal anyone can ask for as she just loves being with her people. She doesn't always need to be on your lap or underfoot, she is quite content just simply being in the same room as you relaxing or playing with her toys. Scully's nickname is Scully Wags as her bum just never stops wagging!!! She is always happy when she sees people and makes it no secret by the way she wags her tail.
Scully would prefer to have a home all to herself as she can be selective with her doggy friends. Scully is extremely vocal when she plays with other dogs so if she were to have another dog in her forever home, it would need to be a canine friend who can be ok with that. Scully also is very unsure when meeting new dogs so a dog who is indifferent to her barking at them will be key in a pal. Scully's best dog friends have been known to be younger dogs (6-9 months).
Scully is crate trained and is quiet. She does whine from time to time when you are in the house and she's in her crate but that's just because she wants to be with you. She is non-destructive in the house and can be trusted loose when you're not around. Given her reaction to new dogs, Scully would love a quiet neighbourhood where she can enjoy her walks with her human. She does distract very easily when a treat is in hand!
If you are looking for the most loyal, loving and independent companion, Scully is your girl.
Details
Breed: American Pitbull Terrier Mix
Sex: Female
Age: 7 yrs. 2 mos. old
Size: Medium
Colour: Grey/White
Spayed/Neutered: Yes
Stage: Available
Additional notes
Dogs: Some (young dogs less than 9 months or very indifferent dog)
Cats: No
Kids: Yes
Housing Type: Attached housing OK, but no high rise building
Special needs: Due to her breed, Scully must find her home outside of Ontario and in an area with breed neutral laws.