Tevo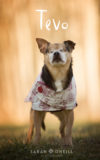 Tevo is the kind of dog that requires a bit of patience to get to know, but good things come to those who wait and once this little guy opens up and trusts you, he'll be your new best friend.
Tevo has been with us for some time. He is a quirky little guy with plenty of energy and spunk to keep up with the young dogs. He loves patrolling the backyard for squirrels or birds. Tevo's happy place is snuggling and curling up in the laps of his people.
Tevo suffered from degenerative eye disease that has rendered him blind. When Tevo first came into care, his right eye was severely diseased and had to be removed. Upon further diagnostics, it was discovered that his left eye also suffered from degenerative disease and we were told it was only a matter of time before that eye went blind as well. Tevo has chronic ear infections and is on medication to help decrease the inflammation in his ear as well as prevent future infections. Tevo also suffers from seasonal allergies and is on a hypoallergenic diet and medication to control them.
Due to Tevo's lack of vision, he needs a patient owner that will be respectful of his space as he gets to know them. Tevo is easily won over with treats but he can be uncertain at first when meeting new people. Tevo will never be a dog that is comfortable in a busy household. He needs a quiet home with limited visitors as well as a home that will ensure he gets the space he needs and proper introductions when meeting new people.
Apart from needing a patient owner, Tevo is a pretty easy going guy. Once he settles in a new home, he is outgoing, friendly and playful. Tevo is fine being left for a regular day of work but he will bark from time to time so a home where that will not be an issue is crucial.
Due to Tevo's lack of vision, he requires a fenced yard and Tevo is both house and crate trained.
Tevo needs slow introductions to new dogs but once he gets to know them, he is happy to live with another respectful pup or two. He is also happy to share his home with feline friends as well.
Details
Breed: Chihuahua Short Coat Mix
Sex: Male
Age: 12 yrs. 8 mos. old
Size: Small
Colour: Black/Tan
Spayed/Neutered: Yes
Stage: Available
Additional notes
Dogs: Yes - Respectful
Cats: Possibly
Kids: No
Housing type: Detached home
Fenced Yard: Required
Special Needs: Tevo is blind and requires monthly allergy injections. **Breed experience required**