Toto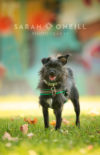 Toto had met a few flying monkeys and was grateful when a Sit With Me volunteer appeared like the Good Witch Glinda to rescue her from the shelter. She is now looking for a woman with the heart to teach her she is loved and the brains to help her find her courage.  Toto will take a little while to be comfortable and loving with her new person, and so someone willing to give her the space and time to learn to trust and love will be necessary for any home applying.
Toto is comfortable in the company of women and her perfect Dorothy would have a calm home with a sense of routine. She loves nothing more than spending time with her person, whether it's playing or cuddling. Toto also loves her foster mom's cat and her fellow foster dogs so a fur sibling would be welcome but she is not a candidate for living with children.   She requires a calm home life as meeting new people is quite overwhelming and her nervous side comes out.  She cannot live with men.
As with most dogs, Toto would really love to have someone home more often, but is pee pad trained for 8 hour workdays.
Whether it's to tell her mom about scary situations or to welcome her home, Toto can be vocal so she would do best in a detached home where she won't disturb the neighbours. A fenced yard is required to keep flying monkeys out and Toto safely in. She is crate trained and house trained. Obedience is a work in progress but she does have the basics down: "kisses", "cuddle", and "belly rub" are commands she obeys instantly.  No dog parks or off leash as she is too great of a flight risk and the only type of training that works with Toto is positive reinforcement.  If you are patient and rarely raise your voice, Toto will grow to like to quicker 🙂
She needs time to become comfortable with new people so Toto is hoping to find a home in the GTA where she can have a few visits with her adopter before going home with them.  With a dedicated well-matched home in another area, we can make it work, but may mean some travelling for the adopter.
Details
Breed: Terrier Mix
Sex: Female
Age: 7 yrs. 2 mos. old
Size: Small
Colour: Black
Spayed/Neutered: Yes
Stage: Available
Additional notes
Dogs: Yes, but will be initially timid.
Cats: Yes
Kids: No
Housing Type: Detached, or townhomes where barking is tolerated when she is alone. No apartments as she is just too overwhelmed.
Fenced in yard: Securely fenced as she is slinky is required, though an active walker will be okay too as long as they have access to a private fenced in friend's yard once in a while :)
Special Needs:  Medical: She has mild cherry eye which only shows up when she is stressed but will go back once relaxed. Toto can ONLY live with female humans as even with work, she has never warmed up to men.  She will react if forced to interact.  She is looking for a transition adoption, which means a few visits before she is left to stay for a week trial.  She is currently in Cobourg and a home in and around this location is ideal though we will work with a dedicated adopter in other areas.