Tuna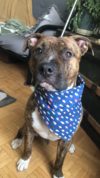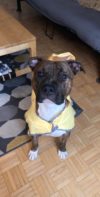 How does a fun-filled day of outdoor adventure sound to you? Long walks, runs, playing ball or frisbee, and of course, lots of post-adventure snuggles? If this sounds like a delightful day that you'd like to repeat for life (or the next decade or so), you've just met your perfect match. Tuna is an active boy who loves adventure as much as he loves his cuddle time. This little dude absolutely loves human companionship and would love to be your one and only.  He's good walking by dogs on the street, but he would just rather be an only dog.  He tends to come off rudely with other dogs and when they fairly take offense, so does he, which means making dog friends never works out in his favour.
Oh, and on really cold days, he requests that he stay in and cuddle with his person.  No frozen Tuna time for this guy, please! While we are mentioning requests, Tuna would be in heaven if he could live with someone who is home more often and who wants to cuddle a lot.  He will certainly make you feel very important in his life every single day.  It would be amazing if he could find someone who has some power breed experience too.
Tuna still has some puppy habits and so a puppy-proofed home is needed!  He will suckle and potentially chomp on your favourite shoes if they are left out, and any food around is fair game to his snout!  Of course, this is not an issue for anyone that cherishes their belongings and keeps them behind closet doors!  And if you're not big on tidying up, and you adopt Tuna, he'll teach ya real quick how to keep your living space Tuna-proofed!
Tuna is crate trained, house trained and eager to please!  And for the small price of a treat or two he's happy to show off his basic commands. He is a smarty-pants and learning comes easily with dedication. The bonus of his love for food makes training that much easier!  He would love a person that understands he wants to be the only animal in the home and that being your best friend will be a role he takes very seriously.  He would also love going to training classes with his person.
Details
Breed: American Pitbull Terrier
Sex: Male
Age: 2 yrs. 1 mo. old
Size: Medium
Colour: Brindle/White
Spayed/Neutered: Yes
Stage: Available
Additional notes
Dogs: No, thank you. Walks by nicely pass them though, keep reading!
Cats: No.
Kids: 12+ and dog savvy
Housing Type: Detached housing ideal as he sometimes barks/whines when left.
Fenced in yard: Yes, please
Special Needs:   Needs to be adopted in an area that does not have a ban on his breed (and yes, Ontario still has a breed ban) and he would love someone home more often, if possible please!