White-Foot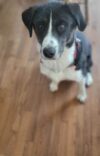 White-Foot is the definition of happiness, and his mischievous nature adds an extra dash of fun to his adorable personality. With boundless
energy and a love for long walks, he'll make the perfect companion for those seeking an active lifestyle.
While White-Foot enjoys playing with his humans, he can be a little mouthy and jumpy at times. However, with some continued training and
guidance, he will quickly learn his manners and become the well-behaved furry friend you've always wanted.
This delightful pup is crate trained and house trained, so you won't have to worry about accidents. Plus, his independence allows him to stay alone during the workday without any issues. White-Foot is incredibly snuggly and will shower you with affection. He'll even give you a gentle poke when he wants your undivided attention!
One of White-Foot's most endearing features is his ever-present tongue, hanging out the side of his mouth. It's as if he's constantly smiling, and being around him will make you feel like the most important person in the world.
If you're ready for a high-energy, fun-loving, and lovably mischievous companion, White-Foot is waiting for you! Apply here and let your
adventures together begin!
Details
Breed: Husky Mix
Sex: Male
Age: 1 yr. 9 mos. old
Size: 65lbs
Colour: Black and White
Spayed/Neutered: Yes
Stage: Available
Additional notes
Dogs: Yes
Cats: Unknown
Kids: 12yrs +
Housing type: Single family
Fenced-in Yard: Yes please
Special: White-Foot is blind in one eye. As per our vet, there are no concerns with the eye but will need to continue to be monitored. This doesn't bother him at all or slow him down.