Wolfy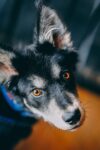 Sweet Wolfy came into care after an unfortunate accident left him with a broken neck. With the help of his dedicated foster, he has made a full recovery and is now looking for his perfect forever home.
Wolfy is described as a sensitive boy with a heart of gold. He absolutely loves his people and enjoys being around dog-savvy children. He is still a puppy and will need continued training to be the best dog he can be. We would love to see him attend positive based training classes as he is smart and loves to learn.
Wolfy enjoys being outside and would be the perfect addition for an active, outdoorsy household. True to the breed, he loves the winter and will stick his nose right into the freshly fallen snow. After a good walk, he will gladly snuggle up to you.
Wolfy currently lives with 3 cats and is very respectful. When it comes to other dogs, he can be nervous when first meeting them so slow intros are a must. He wouldn't be a candidate for dog parks.  Wolfy is crate trained and will often head to his crate on his own for a nap.
Details
Breed: Husky Mix
Sex: Male
Age: 9 mos. old
Size: 40 lbs and growing!
Colour: Black and Grey
Spayed/Neutered: Yes
Stage: Available
Additional notes
Dogs: He likes other dogs but is nervous when first meeting new dogs.
Cats: Good with cats
Kids: 6+
Housing type: Detached, townhome or condo
Fence: Would be nice but not required
Special: Wolfy came into care with a broken neck. He has healed well but should never be walked by a collar or with a harness that applies pressure to his neck. He has one final appointment with our vet that his adopters must take him to.