Yara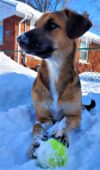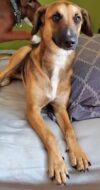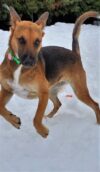 Yara is a sweet playful girl who loves the outdoors. She is nervous around new things but with structure and a confident buddy by her side she pushes herself to find the joy in life. As time goes on, her fears flow away and you see her happy, loving, loyal personality come out.
Yara needs another confident buddy in the home, she really looks to other dogs for confidence and enjoys following their lead. Yara has not met any cats while in care, she would do best in a cat-free home. Yara is nervous initially around people, she would do best with older children in the home. Yara is a medium energy dog, and she loves to go for walks. Yara would likely make a good jogging partner with some training.
Yara is crate trained and does well in her crate, she also eats all her meals in her crate. Yara is fully house trained, very well mannered in the house, not destructive and is working on her basic obedience skills such as sit, wait, and stay. Yara is fearful of new humans, when she is scared or overwhelmed she avoids people and hides in a safe space in the home. Yara will need a patient family to go slow with her and continue in her confidence training through positive reinforcement. Yara does ok in the car, she doesn't love it but she tolerates it.
Yara is fearful initially of new people but with a confident dog in the home she gains confidence. As time goes on there are more and more moments when she forgets to be scared and is a normal, playful, excited, happy dog who loves to wrestle her other dog buddies, cuddle her humans, and run around like the puppy she is.
Details
Breed: Potcake
Sex: Female
Age: 1 yr. 1 mo. old
Size: 35 lbs
Colour: Tan, Brown and White
Spayed/Neutered: Yes
Stage: Available
Additional notes
Dogs: Yes required confident dog in the home
Cats: No
Kids: 10 +
Housing Type: Townhome or Single Family
Fenced Yard: Required
Special: Yara is on a low dose of trazadone daily to help with her fearfulness. She will need to stay on flea/tick prevention until she receives a negative Accuplex test in August at the adopter's expense.
Please note: we can only reply to successfully matched applicants.