Jonathan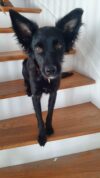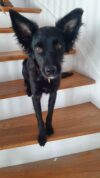 Jonathan is a sweet, sensitive guy who is a fearful of new things. He loves his people so much he cannot get close enough to them. He is very generous with his kisses and loves to cuddle. He will need a patient home to give him confidence and introduce him to everything good in the world.
Jonathan loves dogs and would do well with another confident buddy in the home. He does not need another dog in the home as he is such a people dog. Jonathan has not met a cat while he has been in care, he would do best with a cat free home. Jonathan would need a home with older children or no children, he needs a calm home where a lot of people aren't coming and going. Jonathan is a medium energy dog, he enjoys going for walks and playtime in the backyard. Jonathan requires a fenced in yard in his forever home.
Jonathan is crate trained and will run right into his crate to wait for his treat. Jonathan is potty trained. Jonathan is a very affectionate, cuddly guy and he is very loyal to his people. He is a timid guy and takes time to warm up to new people and things but once he does he is really happy and bouncy. He is food motivated and helps him adjust to new situations when treats are involved. Jonathan is a low maintenance guy once he is comfortable
Jonathan is looking for a family who is dedicated and patient with him. When he feels safe he loves so hard and just wants to be with his people. He is a truly special guy who has a lot to give to his forever family.
Details
Breed: Terrier Mix
Sex: Male
Age: 1 yr. 2 mos. old
Size: 20lbs
Colour: Black
Spayed/Neutered: Yes
Stage: Available
Additional notes
Dogs: Yes
Cats: No
Kids: Teens and Up
Housing type: Townhome or Single Family
Fenced-in Yard: Required
Special: He will need to stay on flea/tick prevention until he receives a negative Accuplex test in August at the adopter's expense. Jonathan is not a candidate for dog parks, so please do not apply if these are important to you.