Zera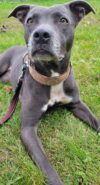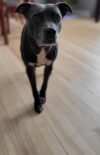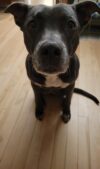 Zera is a gorgeous, introverted senior girl who loves to spend time around her trusted people. She's a little insecure and will take her time to warm up to new people, and will look to her family for guidance. She will give away free kisses to anyone willing to accept them (or not)!
Often called Little Mouse by her foster family, one of Zera's most comforting things to do is burrow deep under the covers – nose and all. She will happily sleep at the end of the bed under the sheets with you all night, or cuddled beside you (but maybe not right up against you) under the blanket on the couch while watching TV.
She enjoys going for walks in a quiet neighbourhood where the chance of seeing another dog is limited, or playing fetch in her fenced-in yard, to chase squirrels, watch birds, or just to lay down and chew on a stick! When Zera sees unfamiliar people or dogs, she will bark and pull on leash. She is currently working on new interactions through positive reinforcement techniques only.
Zera has not met cats but given her prey drive for squirrels, she needs a cat-free home.  Zera likes to be an observer of action in the house but not engaged with all the time, so kids that are respectful of her space are required.
Zera would love having someone who works from home so saying goodbye is not something she has to do too often, however, she is house trained, crate trained and can be crated for a full work day (8 hours).  She can be destructive when left alone so being left loose is not an option for Zera. Zera eats both meals in her crate and will quietly wait to be let out once she is finished. Zera does not like having her nails clipped and has slowly allowed us to touch her paws while she is relaxed.  She has no issues with ear cleaning.
Zera is currently taking 150mg of Trazodone to help with her anxiety, which she will likely need to continue for life. The cost of this medication is approximately $70 per month.
Zera has successfully lived with dogs in the past, but it could take several weeks for Zera to accept the other dog as her pack. Zera shares her toys well but does not like when dogs try to take toys from her while she is actively playing with them.  Her favourite toys are durable Kongs and dogwood, since stuffed toys don't last very long!
The only times Zera barks are when you ask her if she wants to go outside, there is a knock at the door, and while seeing new people or dogs on walks. Otherwise, she is as quiet as a mouse.  Zera does not know many commands but waits at the door when coming inside for you to wipe her paws dry.
Zera is hoping her awesome person is out there and ready for love. 
Details
Breed: Boxer/Terrier mix
Sex: Female
Age: 9 yrs. 8 mos. old
Size: 21kg
Colour: Grey
Spayed/Neutered: Yes
Stage: Available
Additional notes
Dogs: Possibly, with slow intros and the right dog (friendly, not pushy and respectful dogs)
Cats: No, thank you.
Kids: 10+ and dog-savvy.
Housing Type: Detached or Country home only.  Requires a less busy area. Lots of dogs around while on walks adds to her stress.
Fenced-in Yard: Required in city.  Not required in country as long as leashed and supervised when outside.
Special: Zera is looking for a home in areas with Breed Neutral laws due to her looks. Zera would love someone home more often, but can be crated for a half day if needed. Zera is currently on a low daily dose of Trazodone to help with separation anxiety.
Adoption fee: $550