Help us win $10k: June is the Great Canadian Giving Challenge

We're excited kickoff the Great Canadian Giving Challenge (GCGC). We have a chance to win $10,000 for every dollar donated through the month of June; please read on for details!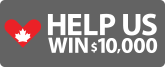 June is a difficult month in animal rescue. Pet abandonment skyrockets in the lead up to Moving Day across Quebec. Our local shelters are overflowing with animals in need, making our foster program more critical than ever.
At the same time, charitable giving reaches its lowest levels. Your support is essential during this time so that we can continue to step in when we're needed the most.
This is why we're so enthusiastic about the GCGC! With the $10,000 prize offered by Canada Helps, this contest helps create excitement around giving right when we need it the most. More donations means we can help more dogs. Each dog in foster care means one less dog in the shelter; it means one more life saved and one more happy family.
Every single dollar donated in the month of June gives us one entry into the contest. This can be done using either [our special Giving Challenge page] or through [the regular Canada Helps platform] – and includes regularly scheduled monthly donations during this time. The minimum donation is only $3, and since each dollar gives us an additional chance to win the $10k prize, each and every dollar truly counts.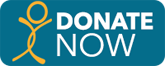 [Canada Helps] is a nonprofit dedicated to helping other nonprofits. Their simple, secure online fundraising platform makes it easy to donate once or every month. Tax receipts are issued immediately for donations of $20 or more. They even resend tax receipts at tax time, making it easier than ever to claim your generous donations. These tools help keep our administrative costs low, so that we can focus on helping shelter dogs in need.
Please consider donating today; our dogs truly appreciate your kindness.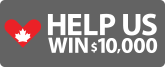 Other ways to help:
Share with friends and family using the hashtag #GivingChallengeCA