June is the Great Canadian Giving Challenge!

Have you heard about the Great Canadian Giving Challenge? Your donations could help us win $10,000!
This awesome promotion from the great people at CanadaHelps and GIV3 means we get one entry for each $1 donated in June through either CanadaHelps or the Giving Challenge. With your support, we can help more dogs like Flower, who came into rescue just this week.
June is a tricky month for animal rescue. In the lead up to Moving Day in Quebec, pet abandonment increases dramatically, and our local shelters are flooded with animals in need. At the same time, charitable giving reaches its lowest levels nationwide. "Compared to the holiday season, donations in June plummet by over 50 per cent," according to Marina Glogovac, president and CEO of CanadaHelps.
This is why we are so excited about the Great Canadian Giving Challenge! The contest helps create excitement about giving, and last year CanadaHelps saw donations increase by 48% compared to the year before.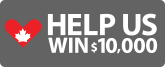 In the past five days, we have had over nine new dogs come into our care. Dogs like Flower, a gentle Collie who found herself in the shelter and became quite ill. Between tummy troubles, itchy skin, untreated allergies, and an ear infection, this sweet girl was in urgent need of rescue. We are so grateful that we were able to place her immediately into a loving foster home, thanks to our amazing volunteers and supporters. While Flower has a long road ahead of her, we can't wait to watch her bloom!
CanadaHelps is a nonprofit dedicated to helping other nonprofits. Their secure online fundraising platform makes it easy to donate once or monthly, and tax receipts are issued immediately for all donations of $20 or more. These tools help keep our administrative costs low, so we can focus on helping shelter dogs in need.
With each dollar giving us one additional entry in the Great Canadian Giving Challenge, and a minimum donation of only $3, every little bit truly counts. With the $10,000 grand prize, we could help three more dogs like Ruger; and with your support we can be there when dogs like Flower need us most.
Other ways to help:
Share with friends and family, or using the hashtag #GivingChallengeCA