Keeping your dogs safe during the holidays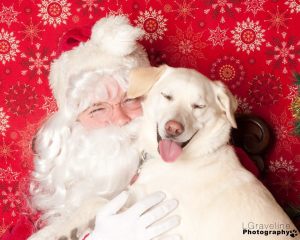 Your dogs are a part of your family, and you want them to be safe during the holidays. Shiny lights, decorated trees, perfectly wrapped presents and new plants can be tempting challenges for dogs of any age, so let's make sure we keep everyone safe and sound to allow everyone to enjoy the festivities.
Oh Christmas Tree, Oh Christmas Tree, How Hazardous You Can Be…
It's stands tall, it gleans with its lights and shines with its glittery decorations, what's not to love? You're just as happy with it as your dog might be! Be sure not to tempt fate too much by not putting tempting items near the tree's bottom limbs that create noise or dangle which may cause the tree to "faint."
Tinsel: It's the thing your dog has written Santa for.  Sure it adds some sparkle to the branches, but if placed at the wrong height, it can cause a lot of trouble for your pet, and can potentially block their intestines, which isn't what Fido asked Santa for Christmas.
Entertaining Guests – Don't let your dog get lost in the shuffle
Holiday parties and gatherings can mean lots of commotion. This might be fun for you, but not for your dog. Lots of people in your home might stress some dogs out, consider keeping her in a crate or quiet room.
Make sure your guests understand the ground rules when it comes to your pooch, and likewise if you visit a friend with a dog. Respect is key!
It's so easy to turn away for a split second and dogs (like small kids) can get into almost anything so quickly. Be aware of what you may have put down that might be harmful like cookies or eggnog. These things smell delicious! To be safe, put away food immediately, and pet-proof your garbage.
Did you know holly, mistletoe, and poinsettia plants are poisonous to dogs or cats? If you normally use these plants to decorate your home, they should be kept in an area your pet cannot reach.
So put the mistletoe up high and keep the eggnog in your hand, snuggle up next to Fido on the couch, and have a safe and merry holiday!